The Holiday Shopping Season is Looking Merry and Bright for Retailers + 11 Ways to Save During the Holiday Season
According to a new survey, with shoppers expected to spend 5% more than last year. The increase in spending does not mean more crowds, though. About 53% of holiday purchases will be made online, with 20% being bought on mobile devices. The shift could affect shopping holidays like Black Friday, with half of consumers planning to make their purchases that day online.
The holiday season is not yet upon us, but retailers are gearing up so that means significantly more spending—and more potential to encounter financial trouble. Because of the emotional play many retailers use to get you to buy from their stores, it's important to be overly vigilant with your spending during this time. Below are 11 ways you can save (instead of spend) during the holiday season.
1. Decide how much you can spend and make a plan.
Many people don't like to use the word "budget" because it seems restrictive. However, creating a holiday budget or "making a plan," as we'll call it here for all intents and purposes, is imperative during the holiday season. By making a plan, you're avoiding overspending and essentially telling your money what to do—rather than allowing it to be in control.
2. Open a holiday spending account.
Using your main checking account to do your holiday shopping is one of the biggest mistakes you can make during the holidays. Doing so allows you to tap into money allocated for other important things like bills and groceries. By opening a separate checking account for holiday spending, you'll help yourself stay on budget. And once the money is gone, you have a clear stop on holiday shopping. Make sure it's a free checking account, opening an account that charges fees would defeat the purpose of doing so.
3. Account for splurges.
Let's be honest: you're going to splurge this month. A dress for your office Christmas party? A sale at your favorite retail store? The jeans you've been eyeing for months are suddenly 40 percent off? We could go on and on, but you get the drift. Set aside a dollar amount that you're willing to spend on yourself this month. Knowing how much you can afford will keep you from being swept up by "can't-miss" deals.
4. Cut back on expenses.
Cutting back on expenses during the holiday season—or even before—will give you more money to allocate towards the holidays. Small changes like cutting your cable (you'll be visiting family and friends most of the month anyway!) or avoiding takeout meals will save extra cash and make a big difference in your budget.
5. Track your spending.
Using a spending log is essential this time of year. Gifts aren't the only thing affecting your budget—more social occasions means more spending. From extra Ubers to hostess gifts, your expenses can add up quick. This usually forces people to make decisions that they may not want to make, like tapping into credit or using money that is not allocated for holiday shopping. Using a spending log will keep your spending in check.
6. Narrow down your list.
It's easy to get caught up in the fun of the season and want to gift something to everyone you're close to. Let us remind you (as corny as it sounds) that presents are not what the holiday season is about. Take a look at your holiday list and be honest about what you can afford. It's not fun, but your loved ones don't want you hindering your financial future for them.
7. Set gift-giving expectations.
Setting gift-giving expectations is really important: If your love ones assume you're going to spend a lot of money on them, they may feel obligated to do the same in return. Having a conversation early on about gift limits will allow both parties to avoid overspending, not to mention it will sidestep any ensuing embarrassment or guilt that comes with one party not giving an equally as lavish gift.
8. Take advantage of store offers and coupons.
Taking advantage of store offers and coupons should be a given, but you'd be surprised at how many people pay full price for things during the holiday season. Many people feel like they are competing against other shoppers to get the best gifts, so they don't spend the necessary time finding the best deals. Don't believe the hype! Make a shopping plan for each individual on your list. Research where you can find the best deals on the product and then sign up for company email lists. Follow sales and make purchases at the right time. Ordering presents in advance (or price shopping with ample time) not only assures that you get the best deals, but also that you don't spend excess cash on things like rush shipping.
9. Be creative.
Being creative is about understanding that you don't have to spend an arm and a leg in order to show your love ones you care. There are many people who are more appreciative of the thought that goes into a handcrafted gift than a purchased item from a big box store. Being thoughtful can have a lasting and more memorable effect than breaking the bank. Spending quality time with an elderly relative, helping a friend clean her home the day after a big party, or offering to babysit for a couple are just a few ideas.
10. Reduce decoration costs.
You may feel inclined to go all out when it comes to decorations, but if you're crafty enough, you can save a lot of money by creating your own. If you really love holiday decor, wait until the season is over and purchase for next year. Prices for decorations are inflated during the holidays, so buying them during the off-season can save you a lot of money.
11. Remember the reason for the season.
We cannot repeat this enough: remember the reason for the season. The holiday season is not all about gift giving. Sometimes your presence is better than your present! The holiday season is about family and friends, and should be cherished in that way.
Do you have a holiday season savings hack that you swear by? 'Tis the season to share!
11 Ways to Save During the Holiday Season was originally published on TheEverygirl.com.
It Will Soon Cost 6-Figures to Attend College + How to Prepare Yourself for the Tuition Hike as a Parent
You used to go to school in the hopes of making 6-figures but now school is about to cost 6-figures… College tuition is nearing the $100,000-a-year mark. The first college likely to reach this sticker price by 2025 will be the University of Chicago, according to a new analysis. Its admission rates have plummeted to 5.9%, which has driven up the price of attendance. The Atlantic suggests elite colleges are spending more "in their pursuit of prestige," and since "being expensive is seen as being good," higher education experts predict other schools will follow suit. 
So if you are a parent who wants to help your child with college what do you do? Although, college isn't something that they will attend until they become an adult it is important that parents start to plan for this expense as early as possible. With childcare being almost as much as rent or a mortgage it can be difficult to save money for anything these days, especially college expenses.
Fortunately, a 529 Plan can help parents save money for their child 's future college experience. The 529 Plan is a tax-advantaged investment. It was created to encourage parents, grandparents, legal guardians, etc., to begin saving money for the future college educations of their children, grandchildren, are legal wards. It receives its name from Section 529 in the IRS Code, and it is offered by state agencies and state organizations.
Not all states offer the 529 Plan, but those who do individually decide how the plan is designed and what kind of investment options they will offer. Most plans allow investors to come from out of state. The advantages for in-state residents who apply for a 529 college savings plan within their state can include tax deductions, matching grant and scholarship opportunities, protection from creditors, and even exemption from financial aid debt.
The 529 Plan is offered in two different forms. There is a prepaid plan, sometimes also called a guaranteed savings plan, which allows you to purchase tuition ahead of time, based on the current calculations of what the tuition of a specific university is. It is then paid out when the beneficiary of the policy attends a college or university.
There are also savings plans, which are based around the market performance of an underlying investment. These investments are generally comprised of mutual funds. Forty-eight states, plus the District of Columbia, offer the 529 savings plan. Usually, savings plans become more conservative, the older the beneficiary gets. There are also options for risk-based investments, which allows underlying investments to remain in the same fund, no matter what the age of the ultimate recipient.
The 529 college savings plans are a great way for parents, grandparents, or legal guardians to ensure that their young loved ones will be able to afford to go to the very best colleges and receive the very best degrees. It allows children the opportunity to follow their dreams, like before they are actually capable of reaching them. They are ideal plans for adults who want to provide college funds for their children but are unsure or unable to go about it in the way the movies have always told them they should. The 529 plans are realistic and affordable investments, designed to ensure a child's future successes.
So as you contemplate whether or not you will start your family, keep in mind of these expenses but also know that there are vehicles available to make the ride smoother (pun intended)
Instagram Is Going to hide 'likes' in US + How to Make Your Potential Empoloyer Like You in Real Life
Oh, I think they like me… Well, maybe you will not even know? Or maybe you'll know but the world won't???? Instagram will soon begin hiding the "likes" counter on some users' accounts in the U.S., says Instagram chief Adam Mosseri. The users in the test will be able to see the likes on their photos or videos, but no one else will. The primary goal behind this move, which has similarly been tested in Australia, Canada, Ireland, and Japan, is to "depressurize" the platform and make it less competitive for young people, according to Mosseri.
This is good news since likes pressure young people to post things that are not really aligned with who they really are but instead what the crowd likes, so this will incentivize them to be their true authentic selves. And for many young people who seriously have begun the process of transitioning into the phase of life deemed "the real world." This is also the stage in life where you are monetarily rewarded for your services if you know how to market yourself to get your dream job.
And since you've come this far…and spent years—essentially you're entire existence—preparing for this moment, you might as well do a bit of research into how to get that job you are oh-so-keenly interested in. Why? Because attaining that job may certainly provide you with a sense of personal gratification but will also help to place you in a comfortable financial position.
So take a few minutes to peruse this list of four ways to market yourself and be a desired job candidate. After all, you deserve that job. And you deserve a great financial future!
4 Ways to Market Yourself for a Job
1. Be Personable
This is perhaps the most crucial element of learning how to market yourself to be offered your dream job. According to MarketWatch, David Deming—an associate professor of education at The Harvard Graduate School of Education—has thoroughly studied the job market and has concluded, "The labor market increasingly rewards social skills."
According to Deming, an aptitude in mathematics and quantitative skills—too—is a plus. Jobs that include high social skills and high math skills include: physicians, financial managers, and engineers. Meanwhile, jobs that contain intensive social but relatively limited mathematical proficiency include: police officers, detectives, social workers, lawyers and dentists.
However, as automatons become an increasingly vital part of production and the job market, rote-based (largely mathematical) jobs will progressively be replaced. And as such, personable, warm, and social individuals will become more desirable. Similar to the study performed by Professor Deming, a 2014 report by the Pew Research Center, stated that: "Traits such as empathy, creative thinking and judgment are things that machines will never be able to do, or anything approaching a short timeline."
Interestingly, according to MarketWatch, the increasing importance of social skills is closely tied to a progressive closing of the gender wage gap. Currently, women dominate fields that include nursing, education, and accounting—all of which require you to be a likeable character. Thus, as these fields' services become more preferred, their wages will ultimately increase.
We're not saying you need to hug everyone you meet, but it's certainly in your benefit to be personable and someone that others want to work with on the daily. Ultimately, that's what matters when it comes to marketing yourself and for placing you in the best position to score that job.
2. Be Confident
Be confident, and be someone your interviewer respects and admires. According to Tim Sackett, current president of HRU Technical Resources, at the final stage of an interview for an HR position at Applebee's, Sackett's future boss asked him one last question: "Are you better than me?" This is a horrifying position for an applicant to be put in. If you answer "yes," do you disrespect your superior? If you answer "no," do you show weakness and lack of faith in yourself? Sackett responded, "Yes." He got the job. That's a great example of how to market yourself right there! However, most people would not have the courage to respond as such. Executives and those responsible for hiring prefer confidence and a belief in one's ability. Display that you maintain faith and courage. Be a leader: someone who your future boss wants not only to respect, but to learn from.
Famed CEO and Co-Founder of Facebook Mark Zuckerberg has given a succinct response to what he searches for in a candidate: "I will only hire someone to work directly for me if I would work for that person."
So…
Speak of your achievements. Be confident and proud of who you are and what you've done. As stated by Entrepreneur.com, many prospective job candidates "make a…fundamental mistake: They never state, in clear language, what they've done for a previous employer or in their academic pursuits." When marketing yourself in an interview, be sure to run through your academic, work-related, and personal accomplishments. This will distinguish you from your competitors! And on your résumé and LinkedIn Profile do not simply state your past duties. Boast (modestly, please) about your triumphs!
3. Be Informative and Stand Out
Résumé. Since most employers will merely glance at your résumé—and not study it as thoroughly as you would your own—it should not only be impeccable, but it should stand out. What is very rarely considered when marketing yourself for a job on a résumé, and what is also crucial, is the order in which you present information. Please, for your sake, list accomplishments, strengths, and the pinnacle of your achievements at the top of your page. Continue the list in order of decreasing splendor. Think about this logically. If an employer must read through thousands of applicants for one position, he or she can only spend so much time reviewing each candidate. Some aspect of the candidate's résumé must strike the employer as intriguing or fascinating in order to move through to the next stage of the application process. And since nearly all people on this lovely planet of ours read from top to bottom, place this captivating information about yourself near the top of the page.
LinkedIn. Additionally, as we have become engulfed in the digital age—LinkedIn has become an ever-so-important aspect of the job hunt and, yup—you guessed it, how to market yourself for a job. So make sure your LinkedIn page is up to date.
Here are several tips to keep in mind, thanks to the kind folks over at Forbes:
Display at least 50-100 connections.
Ask colleagues to endorse you or to provide recommendations on your profile.
Post articles or blog posts you may have written.
Add a professional-looking picture.
Join and participate in relevant professional groups, which will then be listed in your profile.
Keep these suggestions in mind—for your résumé and LinkedIn profile will likely be what scores you an interview.
4. Be Practical (with Your Major)
That said; certainly do not force yourself into a field for monetary or outside-motivating factors. More than anything, you should engage in work that you are passionate about. However, there is an important balance between what you find interesting and what is practical after the collegiate world. Ideally, attempt to determine a major that contains both factors.
Keep in mind, however, the direction in which the world is heading. For your convenience, we have gathered together a list of college majors with the highest / lowest unemployment rates AND majors with the highest / lowest starting salaries.
According to StudentsReview.com, university majors with the lowest unemployment ratings include: Nuclear Engineering; Astronomy; Radiological Sciences; Neuroscience; Kinesiology; Chemical Engineering. These majors are all graced with unemployment percentages of lower than 2.5%.
Meanwhile, university majors with unusually high employment rates include: Dentistry; Animal Studies: Art and Design; Interior Design—which range from roughly 13% to 29% unemployment.
As for starting salaries…the highest starting salaries for majors—according to ThinkAdvisor.com include:
Petroleum Engineering: $102,300
Chemical Engineering: $69,600
Computer Engineering: $67,300
Nuclear Engineering: $67,000
Computer Science and Engineering: $66,700
On the contrary, the worst paying starting salaries are for students who major in:
Early Childhood Education: $29,700
Child and Family Studies: $31,200
Culinary Arts: $31,900
Child Development: $32,200
Early Childhood and Elementary Education: $32,300
Lastly, when it comes to your major or your career of interest: Stay up to date on all relevant information—being in the know gives you an edge when marketing yourself! You should subscribe to email lists, attend networking events, and be prepared to "WOW" your interviewer, as you proceed to discuss the new and latest trends with fervent interest.
Go out and conquer. Your dream job and a fruitful financial future await you!
Being Single Is Worth Big Bucks + How to Not Let a Relationship Ruin Your Finances
Alibaba says its Singles Day event has brought in a record $31 billion in sales. The online retail event, which is now bigger than Black Friday and Cyber Monday combined, is seen by some analysts as a "bellwether of Chinese consumers' willingness to spend" despite a slowdown in growth, according to CNN. The holiday celebrates people who aren't in relationships, with other Chinese e-commerce platforms and even U.S. brands also taking part in the world's busiest online shopping day.
So this now proves that being single is worth a lot of money! And If I can say so personally, being in a relationship and starting a family almost ruined my finances! What do I mean? Let Me Explain… First and foremost, starting a family is one of the best things that has ever happened to me in my life, and anyone who has experienced being a parent will tell you how much joy parenting really is—up to a certain point.
The truth of the matter is that children are blessings and can change your life for the better, but unfortunately, they can also change your wallet in the opposite direction if you aren't properly prepared.
Love Is in the Air
My wife and I met over 15 years ago, and it was love at first sight. Well, maybe not exactly—I had to convince and woo her a little, but she eventually made the right choice and fell to my charm (or my unwavering persistence). We had a great time dating and rarely discussed starting a family because we were enjoying our lives, careers, and looked forward to more world travel. After five years of dating, we decided to get married and wasted no time starting a family after that. My daughter was born approximately 11 months after our nuptials, and this was one of the best days of our lives. We enjoyed our new family immensely, but soon after, we were hit with the reality of parenting and raising a young child.
Love Didn't Pay the Bills
Bills started to pile up immediately, and we were left with many tough decisions to make as it related to our priorities. Were we going to pay our medical bills first or use our cash to buy clothing and diapers? Could we afford childcare, or should one of us stay home? Was it time to pick up a second job, or was there another way to bring in more income? The fact that it is expensive to start a family set in pretty quickly.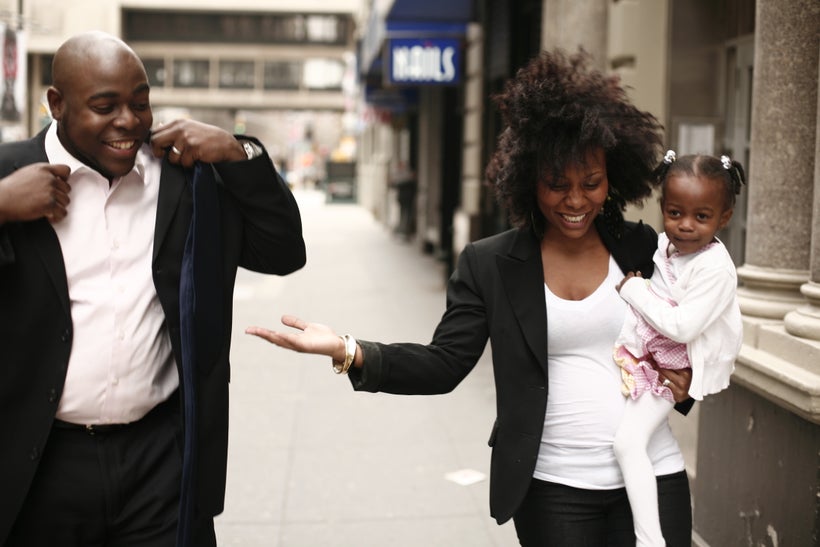 Love Lowered Our Credit Scores
After months of robbing Peter to pay Paul, we were almost maxed out on our credit cards in an attempt to make ends meet. We watched our credit scores closely and noticed that these high credit card balances had taken a toll on our score, dropping it almost 30 points in a short amount of time. We learned that overuse of our credit cards had taken us way over the recommended maximum utilization ratio of 30 percent.
Love (and a Little Discipline) Fixed It All
Immediately, we started to budget our expenses and focus on our needs rather than our wants. We tightened our belts a little and by doing so we were able to pay down our debt and get our score back on track. We also started to pay ourselves first and created an emergency fund with a high-yield savings account in order to prevent ourselves from being dependent on credit. We focused on our needs and budgeted for the wants, and before we knew it, our ruined finances became a walk in the park of family finances.
The Lovely Conclusion
Starting a family is still our most significant accomplishment, but turning our family finances around is a close second. Never underestimate the power of planning, but also don't beat yourself up if life throws you lemons—or babies for that matter. Now at child number two, my family finances are growing, and what seemed like an out of control situation was put back in order with a little planning and discipline.
Do you have any financial comeback stories? I would love to hear them below.