Amazon Has 30,000 Jobs They Need to Fill + How the Gig Economy Is Making It Hard for Them to Fill
Amazon has more open jobs than ever before. The company is attempting to hire 30,000 permanent employees in the U.S. alone. The jobs are spread out across departments and at locations throughout the country. Filling them is an especially tall order in such a tight labor market, with unemployment hovering near a 50-year low. To get started, the tech and retail giant will hold job fairs on Sept. 17 in six cities: Arlington, Boston, Chicago, Dallas, Nashville and Seattle.
Jobs may be so abundant because of the growth of the gig economy that allows people to work where they want doing what they want. Gig economy jobs continue to grow in popularity in the U.S., accounting for at least 5% of the workforce. So how do you fully take advantage? Moneyish.com recently wrote an article titled: The secret to making $115 an hour in the gig economy
In the article they give us 10 best fields for gig workers based on pay and job availability:
Artificial Intelligence – Deep Learning: $115 per hour
Blockchain Architecture: $87 per hour
Robotics: $77 per hour
Ethical Hacking: $66 per hour
Cryptocurrency: $65 per hour
Amazon Web Services Lamda Coding: $51 per
Virtual Reality: $50 per hour
React.JS Developers: $41 per hour
Final Cut Pro Editors: $37 per hour
Instagram Marketing: $31 per hour
The first trend you might notice is that this list is dominated by tech jobs. Gavin Graham, the special projects editor for FitSmallBusiness.com, says this is because these types of jobs lend themselves well to the gig economy and are growing fields that pay well.
So what exactly do people in the no. 1-rated artificial intelligence-deep learning field do? "They help develop "the technology that drives the ability of artificial intelligence to 'learn' and adapt," says Graham. "Jobs in this field include developers who code the underlying algorithms using tools and programming languages, such as MATLAB, Python, Java, C++, Tensorflow, etc..," he adds.
One possible surprise on the list: Instagram marketing. It lands on the list because job growth has been very rapid, he explains. While many companies have worked on Facebook and Twitter marketing, their Instagram platforms are less developed — and in need of help.
Being Single Is Worth Big Bucks + How to Not Let a Relationship Ruin Your Finances
Alibaba says its Singles Day event has brought in a record $31 billion in sales. The online retail event, which is now bigger than Black Friday and Cyber Monday combined, is seen by some analysts as a "bellwether of Chinese consumers' willingness to spend" despite a slowdown in growth, according to CNN. The holiday celebrates people who aren't in relationships, with other Chinese e-commerce platforms and even U.S. brands also taking part in the world's busiest online shopping day.
So this now proves that being single is worth a lot of money! And If I can say so personally, being in a relationship and starting a family almost ruined my finances! What do I mean? Let Me Explain… First and foremost, starting a family is one of the best things that has ever happened to me in my life, and anyone who has experienced being a parent will tell you how much joy parenting really is—up to a certain point.
The truth of the matter is that children are blessings and can change your life for the better, but unfortunately, they can also change your wallet in the opposite direction if you aren't properly prepared.
Love Is in the Air
My wife and I met over 15 years ago, and it was love at first sight. Well, maybe not exactly—I had to convince and woo her a little, but she eventually made the right choice and fell to my charm (or my unwavering persistence). We had a great time dating and rarely discussed starting a family because we were enjoying our lives, careers, and looked forward to more world travel. After five years of dating, we decided to get married and wasted no time starting a family after that. My daughter was born approximately 11 months after our nuptials, and this was one of the best days of our lives. We enjoyed our new family immensely, but soon after, we were hit with the reality of parenting and raising a young child.
Love Didn't Pay the Bills
Bills started to pile up immediately, and we were left with many tough decisions to make as it related to our priorities. Were we going to pay our medical bills first or use our cash to buy clothing and diapers? Could we afford childcare, or should one of us stay home? Was it time to pick up a second job, or was there another way to bring in more income? The fact that it is expensive to start a family set in pretty quickly.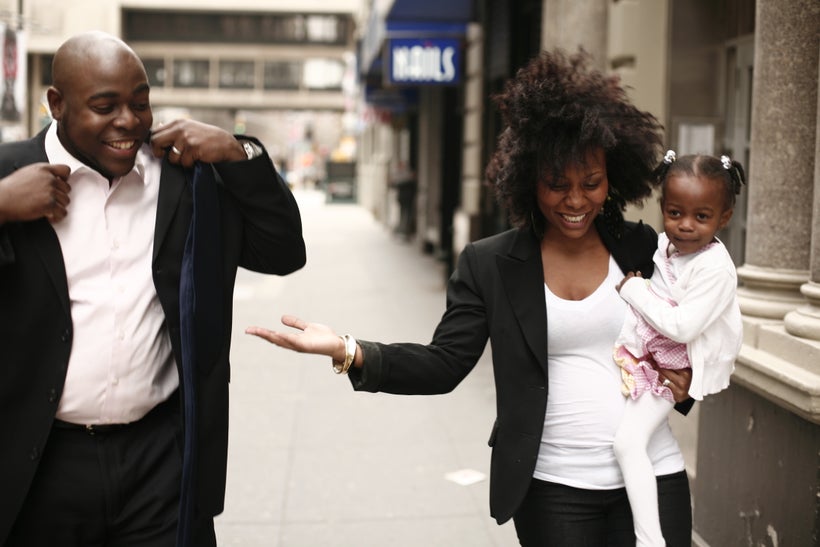 Love Lowered Our Credit Scores
After months of robbing Peter to pay Paul, we were almost maxed out on our credit cards in an attempt to make ends meet. We watched our credit scores closely and noticed that these high credit card balances had taken a toll on our score, dropping it almost 30 points in a short amount of time. We learned that overuse of our credit cards had taken us way over the recommended maximum utilization ratio of 30 percent.
Love (and a Little Discipline) Fixed It All
Immediately, we started to budget our expenses and focus on our needs rather than our wants. We tightened our belts a little and by doing so we were able to pay down our debt and get our score back on track. We also started to pay ourselves first and created an emergency fund with a high-yield savings account in order to prevent ourselves from being dependent on credit. We focused on our needs and budgeted for the wants, and before we knew it, our ruined finances became a walk in the park of family finances.
The Lovely Conclusion
Starting a family is still our most significant accomplishment, but turning our family finances around is a close second. Never underestimate the power of planning, but also don't beat yourself up if life throws you lemons—or babies for that matter. Now at child number two, my family finances are growing, and what seemed like an out of control situation was put back in order with a little planning and discipline.
Do you have any financial comeback stories? I would love to hear them below.
Millennial and Gen Xers Career Ambitions Are Being Put on Hold + How to Make Your Career Move at Any Age
Millennials and Gen Xers are patiently waiting for their baby boomer bredrens and sistrens (Brother and sister in Jamaican patwoy) to retire so they can plan the big takeover. Still, the problem is they aren't retiring. According to a USA TODAY/LinkedIn survey, there are now five generations in the workforce, clogging up America's career ladder and making it difficult for younger workers to move up. Some 41% of millennials say they've struggled with promotions because boomers are delaying retirement, leading younger workers to job-hop for bigger titles and higher pay. A tight labor market has also led companies to hold onto older workers.
Can you be too young or too old for a job? Age discrimination is illegal, but we all know some employers may discriminate based on age and try to mask it as something else. While there are no foolproof ways to stop it, there are ways to prepare yourself no matter what. Here are four ways to prepare for the job you want no matter your age:
1. Focus on Your Strengths, Not What You're Lacking
Whether you are 20 years old or over 40 instead of focussing on your age, you need to focus on your strengths. Many young people with limited experience or older people who may not be up to date with the latest technologies focus on what they're lacking, and this is a big mistake. Do you have the qualifications for the job? Can you bring value to this position? Whatever your strong suits are, you should play that up in your resume, cover letter, or communications with the recruiter. It's easy to focus on why you can't get the job, but the trick is not to let that get to you. Focus on your value!
2. Attack Your Job Search from All Angles
Networking, Answering ads, and/or working with recruiters are the most effective ways to land a job. It is important that you don't focus on one method but all three. Networking is the ideal way because it allows you to communicate your value directly, but the other methods have their benefits as well. Be proactive and use each method effectively.
3. Show/Explain Your Leadership Abilities and/or Innovation
Leadership and taking the initiative have nothing to do with age. Young leaders and old leaders can be more or equally effective as those who have the "ideal" age. Focus on your leadership abilities, and be sure to display this to your current or potential employee. Also, make sure you are keeping up to date with current trends in your industry. This will allow you to show your innovation and add more value to your company.
4. Ask for What You Are Worth
Lastly, ask for what you are worth. Don't let being "too young" or "too old" deter you from asking for the salary you deserve. Trying to downplay your worth may very well backfire on you. Also, if you have been with a company for a long time and your salary outpaces what the position is worth, making sure you are adding to your skill set and not staying complacent.
Following these four tips can help you gain or retain employment. What are some other ways? Comment below>>>
Former Twitter Employees Are Accused of Espianage + How to Protect Your Personal Information from Spies
Two former Twitter employees have been accused by the Justice Department of using their roles to provide Saudi Arabia with information about American citizens and Saudi dissidents. The charge reflects the first time federal prosecutors have publicly accused the kingdom of running agents in the United States. It also raises a fresh set of concerns about the ability of U.S. tech companies to protect private data against abuse from foreign governments. Twitter said it restricts access to sensitive information to "trained and vetted" employees.
So what does that mean for your personal information? What do you if someone steals your info? First, understand that just because you're the victim of identity theft due to a data breach, it doesn't necessarily mean that someone is opening credit lines and cleaning out your accounts. It only means that your data has been exposed; however, there are some steps you should take to ensure that you do not have an identity clone and that your finances are intact.
Step One – Don't Panic. The first step is not to panic. Thoroughly read your notification letter, which will explain what information is at risk, how the breach occurred, and how you can get more information. Keep it in a safe place in case you ever need to prove that your data was exposed.
Step Two- Change your Passwords. It's a good practice to update your passwords every 90 days. Be sure to include numbers, symbols, and uppercase and lowercase letters in your new passwords.
Step Three – Contact Financial Institutions. Let your bank, mortgage lender, and other financial organizations know that your data has been compromised. This way, they can keep an eye out for suspicious activity.
Step Four – Monitor Billing and Financial Statements. It's essential that you're on the lookout for fraudulent activity, too. Your bank or credit card provider may have text or email alerts to help you monitor your account, but be sure to check your statements regularly. And don't just look for significant withdrawals. Small purchases could be criminals seeing what they can get away with.
Step Five- Check Your Credit Report. You can get a free credit report once per year. After 30 days, request your copy and check for anything suspicious. For extra protection, sign up for a credit monitoring service. While this typically comes at a cost, the business that exposed your data may offer these services for free in response to the breach.
If you're a Capital One customer not to worry, they have fixed the exploit the hacker used to access the data and has worked with federal law enforcement on the breach. The banking company said it would reach out to customers who were part of the hack and will offer free credit monitoring and identity protection to those customers affected by the breach.